Special Features:
1. Outstanding features:
    a: The tip of the pen is smooth: the refill is made of reinforced alloy and imported with gold-plated refill, which is smooth and unobstructed;
    b: Smooth painting: imported gold-plated nib, gold-plated material is soft and round, painting and writing, without damaging the screen;
    c: Accurate using: Actively simulates the human body magnetic field, with the imported pen tip, pen down mark, accurate;
2. Easy to use:
    a: Push-to-Play: no need for Bluetooth connection, press the power switch to use;
    b: Automatic sleep: If it is not used for 30 minutes, it will automatically power off and power off, and protect the power from losing.
    c: Convenient charging: open the magnetic cap of the tail, plug the cable to charge, and fully charge in 1 hour;
    d: Super Fit: Applicable to all Android Apple Smart Touch Capacitive Screen devices;
3. Other feature:
    e: Powerful battery life: charging for 1 hour, continuous use for 12 hours, standby time can reach 30 days.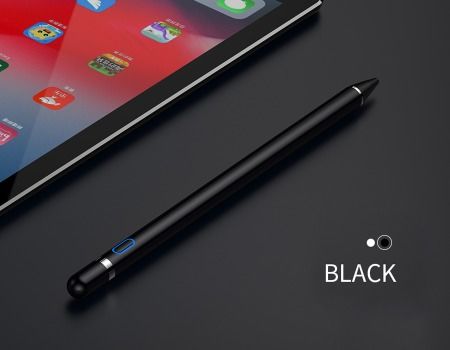 Product specification:
Product material: Aluminum alloy pen, pure copper pen tip (pen tip with protective film does not hurt the screen)
Product Process: CNC Piano Paint
Product color: Black /white
Product diameter: 9mm
Tip diameter: 1.5mm
Product length: 173mm
N/W: about 35.3g
G/W:
Package dimensions:
Applicable models: all capacitive screens (LED OLED)
Charging time: 60-80 minutes
Working time: 10 hours
Effective distance: 1.6mm from the pen tip
Battery specifications: lithium polymer battery 140mah
Voltage and current: 5V/0.2A
Charging interface: Micro USB
Standard accessories: USB charging cable
Intelligent power saving: automatic power off in 30 minutes
Standby time: 30 days
Light introduction: press the button once, the LED blue light is on, you can use it; press the button again, close it, the LED light turn off; the LED red light is on when charging, the light is off or the green light is on when the battery is fully charged